Large parts of the financial community agree that the disclosures about intangible assets on balance sheets and in the sidenotes are insufficient and largely unsatisfactory. This applies to both internally generated and acquired intangible assets. Preparers are said to hide away, encrypt, condense, or dilute information on intangible assets to a maximum, thereby annihilating informational content.
This is not fully true. When acquiring our data, MARKABLES professionals browse tens of thousands of financial statements worldwide to identify meaningful financial disclosures on intangible assets. Some of these disclosures are worth being highlighted for their informational value. Below are two such examples.
In 2017, British ZPG plc (Zoopla Property Group) acquired Hometrack, the UK's leading provider of residential property market insights. Established in 1999, Hometrack is the UK's #1 automated valuation model ("AVM") provider and one of the leading AVM providers in Australia, generating over 20 million automated property valuations per annum. Hometrack provides residential property market insights, analytics, valuations and data services to over 400 partners including mortgage lenders, new home developers, investors, housing associations and local authorities. In the PPA disclosures, ZPG revealed a couple of assumptions related to the valuation of Hometrack's intangible assets, most notably appropriate royalty rates used to determine the value of the brand and the software, and asset-specific discount rates.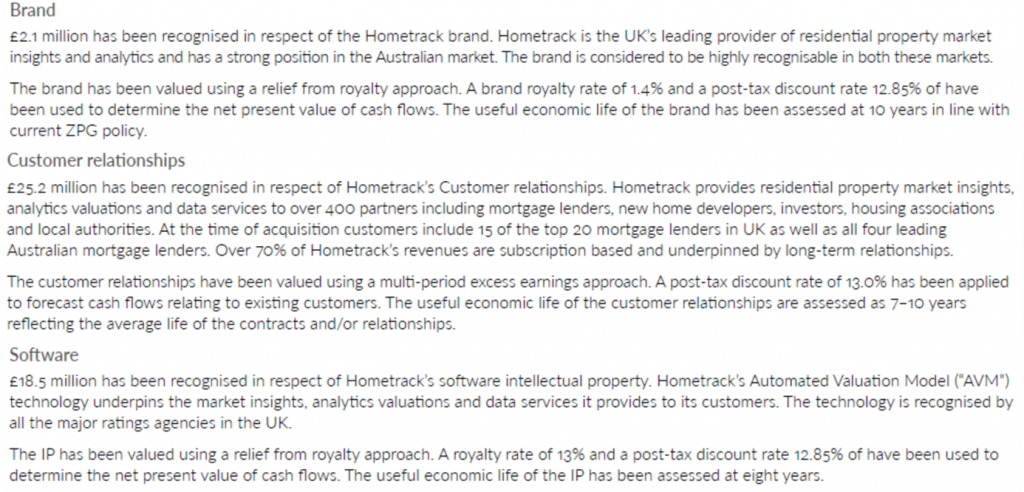 In 2020, Canadian convenience retail giant Alimentation Couche Tard acquired Convenience Retail Asia (BVI) Limited, an important operator of convenience stores in Hong Kong under the Circle K banner. Circle K HK operates 340 stores throughout the region. Furthermore, it has developed solid expertise in loyalty, with approximately 1.6 million "OK Stamp It" members, and has established a strong private label program, as well as advanced merchandising, technology and supply chain capabilities. Looking into the sidenotes to the PPA of this business combination, Alimentation Couche Tard revealed a number of details including asset-specific royalty rates, attrition rates, revenue bases and useful lives.
Both disclosures go way beyond usual levels. For the experienced analyst and reader, both disclosures allow important conclusions not only on the nature and composition of the intangible assets that were acquired with the businesses, but more importantly on the value driver and risk assumptions. We find them excellent and reward them with the MARKABLES Intangibles Disclosure Award.