Did you know that the most expensive brand portfolio ever acquired was valued at US$ 93.6 billion? Christof Binder, managing partner of Trademark Comparables AG, runs through the 50 most expensive brands and brand portfolios acquired over the past two decades, and the trends that they reveal, in an article in World Trademark Review (WTR) magazine.
Looking at the highest ever brand acquisitions, there is an impressive exponential trend, which doubles with every record high. A first record high was the brand value of $4.8 billion reported by Grand Met with its acquisition of Pillsbury in 1988. By 2000, the record figure had risen to $11.7 billion with the acquisition of Nabisco by Philip Morris. Five years later, the acquisition of Gillette by Procter & Gamble marked another record high with a reported brand value of $25.6 billion. In 2015, following the acquisition of Kraft Foods in the formation of Kraft Heinz, a brand value of $41.3 billion was recorded. And finally, 2017 saw the acquisition of Reynolds American by BAT, with a reported brand value of $93.6 billion. To stay within the trend, the next record high would be in the area of $200 billion – a little hard to imagine for now. But who knows?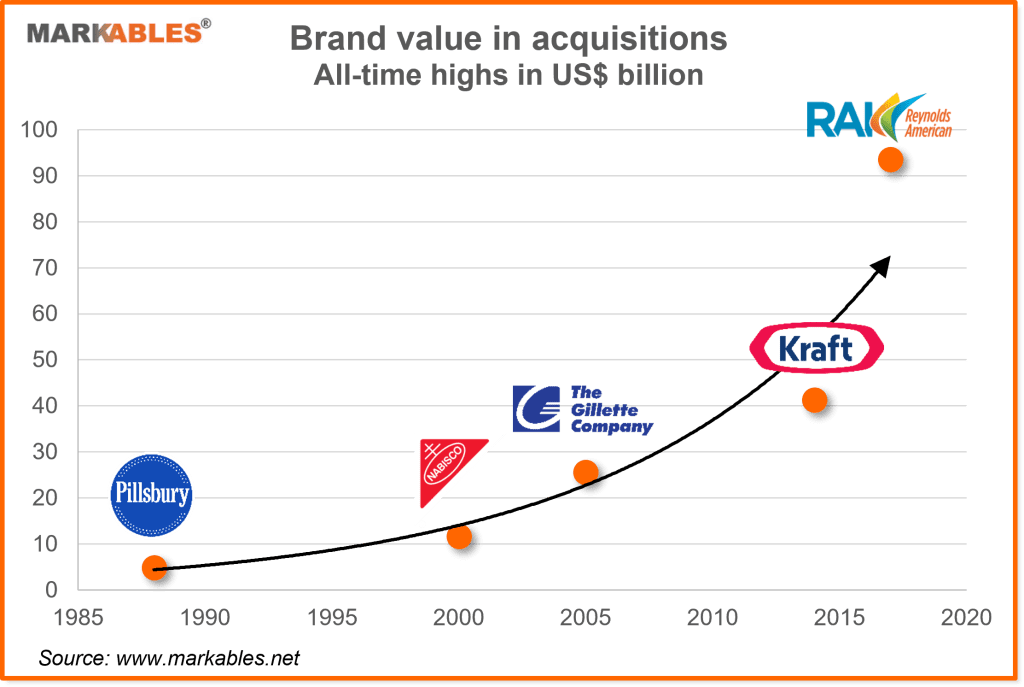 The article covers the importance of brands in corporate M&A. It provides a comprehensive list of the 50 most expensive brands and brand portfolios ever acquired, including their values, ratios and multiples. Moreover, it discusses general trends in importance and appreciation of brands versus customer relations in M&A, and country-by-country differences. Finally, it covers some implications for state-of-the-art IP management.
Have a look at the full document here.