Bike stocks are very popular these days, after a long period of hibernation. Certainly a result of the recent market dynamics with e-bikes. The market enjoyed some bike-related IPOs during 2021 (i.e. Donkey Republic, Bike24, Volcon, BikeExchange, hGears, EZGO Technologies) and the first stock exchange index tracking 20 of the trade's largest listed bike companies was launched in Frankfurt (the BeneFaktorIndex® Bike). The index gained 8% since its launch in February 2021.
MARKABLES had a closer look at past M&A transactions in the bike sector (for both bicycles and motorbikes), and how intangible assets were valued. Besides goodwill, trademark is the only substantial asset class. Customer relations and technology are of minor importance. Appropriate trademark royalty rates are 3.3% on average, and trademarks account for 30% of enterprise value.
The EV multiples (revenue multiples) were low – 1.0x on average -, indicating rather weak profitability and low growth prospects. Will this now change, with innovative products and new market dynamics, and lead the sector to new valuation highs?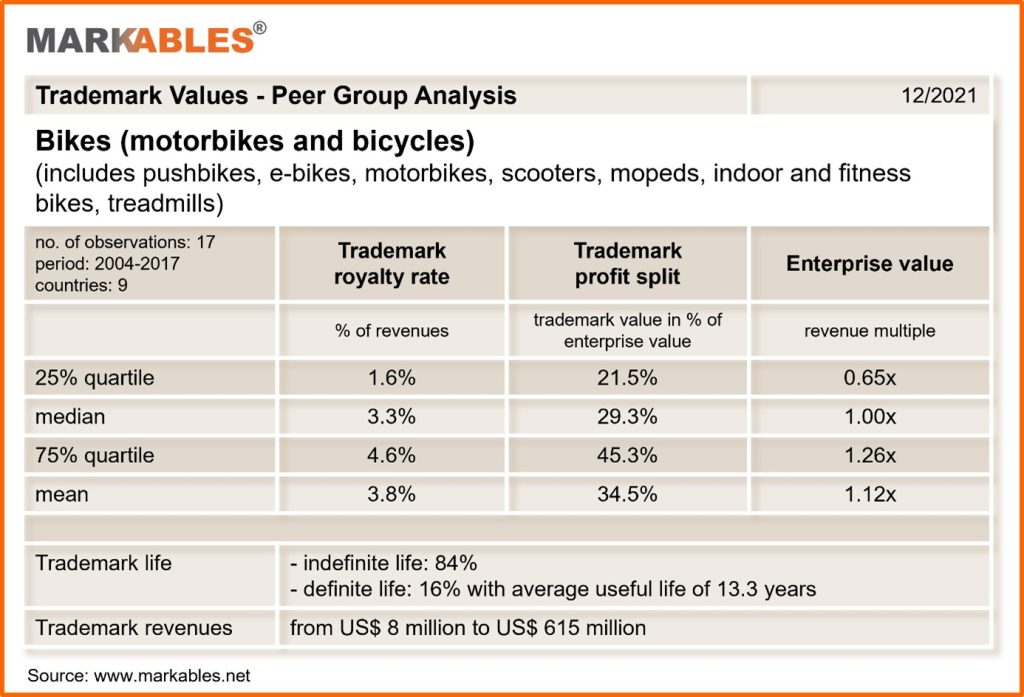 In addition to trademark related data as shown above, MARKABLES offers data on customer relations and goodwill. From spring 2022, we will add data on software and technology to our data offering.